300-Hour 36 Days
MEDITATION & YOGA TEACHER TRAINING COURSE IN BALI
Full Accreditation and Certification by the internationally recognized Yoga Alliance

300-Hour 36 Day
MEDITATION & YOGA TEACHER TRAINING COURSE IN BALI
Full Accreditation and Certification by the internationally recognized Yoga Alliance

Upcoming Dates

March 31 – May 5, 2024
Tuition Fee

Starting starting at $3200 USD

Secure your spot with a $750 deposit and pay the rest later!
Package Pricing
Non-residential: Course fee and 3 meals per day.
US$3200

Early Bird price – valid 6 months or more before the course begins.

US$3600 USD

6 months or less before the course begins
Budget shared package: Single bed in a shared dorm for four, with a shared bath.

US$

3700

Early Bird

US$4000 Normal price
Budget Private package: Single/queen bed in a private room with shared bathroom facilities.
US$4100

Early Bird

US$4400 Normal price
Standard package: Queen bed in either the villa Mezzanine room or a private cottage with bathroom and kitchenette.
US$4100

Early Bird

US$4500 Normal price
Comfort package: King bed in a private room with en-suite bathroom in our shared villa with pool or nearby walking distance with one of our partnered resorts.
US$4850

Early Bird

US$5100 Normal price
A US$750 deposit is required to reserve the room of your choice.
Access to the online platform will become available once you have paid in full. If you want early access, please leave a $750 non-refundable deposit.
Special Discounts
Friends & Family
:
Sign up as a pair sharing a room/bed and both of you will get 15% off the full course price. Not applicable on early bird price.
Early Bird: Sign up early and receive 10% off the sale price. Early Bird discount is valid up to 6 months before the course starts.
Referrals: Refer someone who signs up for our TTC and receive 10% off of an online course and 5% off of an in-person course in Bali. Be sure to tell your friends to mention you when they contact us.
I've learned more about yoga on the first day of this course than I have in all of the classes I've attended! This is exactly what I was looking for. Thanks!
Our Samyama 300hr Meditation and Yoga Teacher Training Course offers an opportunity for self-growth, personal development, and transformation. This course will build upon your experience as a practitioner and teacher, and help you to create a meaningful yoga business for you and your community.
In addition to your in-person experience, you will have access to our rich online teaching platform for 12 months. This will allow you to have ample time to practice and digest the teachings at your own pace.
The gift of yoga and meditation is so profound that this intensive teacher training course may help you to:
Become an excellent yoga and meditation teacher

Feel healthier in your body and mind

Introduce amazing changes into your life that you didn't dare to before

Forget about the world for a while and just listen to your Self

Discover your purpose in life
And more…One thing we know from experience; things will never be the same
Please contact us if you'd like to find out about the teachers of this course/retreat, their certifications and experiences.
1 airport transfer one way
1 steam sauna/cold plunge session
1 deep tissue massage with our Balinese massage healer
Yoga Alliance accredited certificate
Access to our private Facebook group
Access to our online platform for 12 months
Buddy system for extra support and practicum assignments
Payment policy
Fees for Teacher Training Courses must be paid in full at least 14 days before the start of the course. If balance remains unpaid and no response from the student before the start of course, the student's spot may be offered to another student on the waiting list. 
Cancellation policy
There will be no refund of deposits or course fees paid for cancellations made less than 14 days before the start of the course. 

There will be no refund of deposits or course fees paid for no-shows, unless major incidents such as death or natural disaster. Force majeure incidents are at the discretion of Samyama management. 

If a student must cancel after paying in full, the student may use that balance to book another course at a later date that starts within 24 months, minus the deposit amount. This means, the student will need to pay another deposit to compensate for the last minute cancellation.
Deposit policy
A participant is eligible for 100% refund of a deposit if Samyama is notified at least 120 days prior to the event start date.

A participant will be eligible for 50% refund of a deposit if Samyama is notified at least 90 days prior to the start date.
In all circumstances, when a refund is made, transfer charges will be covered by the participant, not Samyama. This means Samyama will deduct the transfer charge from the total refund sent.
Date change without loss of deposit is possible if Samyama is notified at least 60 days before the event starting date. We allow one date change to save your deposit. Deposit must be used for a course or service offered within 24 months.
Other policies
No special discounts are applied on early bird or flash sale prices.

Please note that we have limited residential spots and usually no residential spots are left for last minute booking.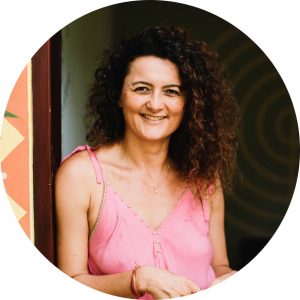 Dijan
Dijan is a practitioner of yoga and meditation with many years of experience. Her work is a synthesis of yoga therapy, esoteric tantra knowledge/practices, and meditation. She has studied with several teachers and has been fully immersed in a yogic way of life for many years working as a full-time yoga teacher and therapist. Her teachings aim to provide ways to open up to life inside and out, in order to serve oneself and others.
Dijan is trained in the following areas:
Yoga therapy: After completing an 800h yoga therapist program, she offers private consultations and retreats on an international level relying on yogic techniques, ayurvedic knowledge, and different dietary disciplines.
Meditation: She is initiated in many profound forms of meditation such as mantra, yantra, laya, uccara, vipassana, hridaya, and mindfulness. Meditation is the core of her personal practice and her teaching.
Femininity: She created her holistic and mature synthesis of teachings and techniques from Tantra, Ayurveda, anthropology, and philosophy serving to understand, express, and balance the feminine nature. She is also adding her dance background into this profound work manifesting as the retreat series 'The Feminine Way.'
Devlin
Devlin is a musician, a practitioner, and a teacher. She was first introduced to a simple Thich Nhat Hanh meditation at the age of 12 and has been on a long and winding road to the Self ever since. Devlin is passionate about the link between art and heart and worked for many years bringing performing arts and mindfulness education to under-served communities in New York City. She is a strong believer in the power of meditation for liberating ourselves from unconscious conditioned patterns. Once these no longer hold us back, we can realize the true nature of our hearts and act with kindness, compassion, and ease for the good of all beings and the planet.
Devlin has been teaching since 2006 and contributes her background in pedagogy and her experience with children, special needs, and at-risk populations. After spending two years apprenticing with a reiki master, tantrika, and energy healer, she decided to dive fully into spiritual teachings. In 2016 she began focusing exclusively on teaching hatha yoga, meditation, and sacred feminine arts internationally. She is a co-owner of Samyama, currently based in Bali, and thrilled to be continuing to share the gift of meditation through this Meditation & Yoga Teacher Training Course all across the world.
Andrea
Andrea has lived on earth for some time and traveled and lived in many countries. He has navigated through business and spiritual communities, experienced bliss and depression, checked out Tantra and Advaita. Andrea believes the genuine play of life sits in living fully all of our sides while watching from the middle. He has been a student and a teacher, a clerk and a manager, and loves life for all its facets of existence. He is fascinated by people and their authentic expression of inner gifts.
Andrea is the founder of Samyama and a Hridaya Meditation teacher. His intention in building Samyama was to create a home for silence and stillness amidst the movement of Ubud.
What makes this TTC special?
Outstanding teachers
Our teachers are dedicated and accomplished yogis/yoginis. They all have a solid background in yoga and meditation, and a regular personal practice. They will share their diverse gifts and skills with you from an authentic and heart-centered place of service.
A venue created by practitioners for practitioners
Our beautiful venue, Samyama Mindfulness Meditation Center, was born out of a desire for authenticity and a love of non-dual teachings. Meditation and inner work were the seeds. Love and a dedication to service helped to water this dream. Our facilities have been purposefully designed to support deep transformation, healing and integration.
Our unique location is tucked away in a quiet neighborhood surrounded by jungle and rice fields in tropical paradise. We are only a 5 minute drive to town but you will feel far away from the hustle and bustle.
Amazing healthy meals
Samyama Eatery is all about wholesome, fresh, colorful, plant-based food made from scratch right here in our compassionate kitchen. It is also delicious! We offer predominantly organic, locally sourced food. We strive to create a kitchen with zero food waste. We care deeply about the planet and all life forms on it, including you!
Carefree, all inclusive packages
From the moment you step off the plane in Bali, our friendly and trustworthy drivers will be there to greet you and transport you to Samyama.
You will feel supported with a plant-based diet, designed especially for this journey.
Samyama's massage therapist, steam sauna, ice bath and other Healing Center perks are available when you need some extra care.
The staff and teachers take pride in the warm family vibe we create, where everyone feels well taken care of.
The Yoga capital of the world
Ubud, Bali has become one of the top destinations for yoga and spirituality. The local Balinese Hindu's live their practice through a strong belief in karma and acts of devotion – offering to the gods on a daily basis. Ubud translates into 'medicine' and has always been a holy center for healing and purifying. It is hard not to feel the strong, yet nourishing energy – like a warm embrace – from mama Bali.
One-on-one attention
Everyone has their own unique journey with yoga and meditation. It's not a one-size-fits-all kind of practice. We value the importance of one-on-one attention by keeping our group small, offering each student a teacher/mentor they can go to with questions, and creating a buddy system.
Our curriculum is designed in accordance with Yoga Alliance standards. Upon completion of the course, you will receive accreditation as an RYS 300 hour teacher.
Meditation initiations
Each week you will be guided into the depths of different and potent meditation techniques by the empowered teachers. Daily practice of each technique will help you discover which form of meditation works best for you, and give you the ability to guide your future students.
You will experience two profound retreats during this course.
A six-day meditation retreat based on non-dual practices and the revelation of the spiritual heart. This retreat is practiced in noble silence.

A five-day kundalini yoga and meditation retreat based on non-dual Kashmiri Shaivism and classical tantra teachings.
Styles of yoga
You will be trained in classical poses of hatha yoga obtaining a thorough understanding of their physical, energetic, emotional, mental and spiritual effects.
Samyama MYTTC focuses primarily on tantric hatha yoga addressing the subtle energetic and spiritual effects of our practice.
In addition, we offer an introduction to vinyasa, kundalini and restorative practices to round out your experience.
Please note that we place more significance on the union of mind-body-spirit than we do on physical strength, and flexibility. If you are looking for a strict alignment-based approach, we may not be the right school for you.
Anatomy and physiology
This advanced course explores the subtle anatomy of the body through in-depth exploration of the chakra and Nadi system.
The expert teachers will create experiential immersions into subtle anatomy, physiology – the nervous system from a trauma-informed perspective, and Ayurveda – the sister science of yoga.
We want you to explore yoga`s effects and functioning in our being from an experiential perspective.
Kriya techniques
We will teach and practice together selected techniques from the shat karma kriya system. This will assist our bodies in the purification processes that occur during intensive yoga and meditation practice. These techniques are gems that you will want to share with your students.
Teaching and professional skills
We love sharing our passion for this path. We want you to develop all of the required teaching skills; from making adjustments/corrections, to giving effective discourses to tuning into the needs of the individual and the group.
Since many of the participants in this course are already teaching yoga, we have ample opportunities to learn from each other through practicum hours and constructive feedback.
We will also support you in creating an ethical yoga business that brings abundance into your life and serves your community in the best possible way.
Philosophy and history
Besides the core texts of yoga philosophy such as the Yoga Sutras of Patanjali and the Bhagavad Gita, we will introduce tantric texts such as the Vijnana Bhairava Tantra, teachings from Advaita Vedanta, Kashmiri Shaivism, Classical tantra and more. There are so many beautiful and accessible texts that inform and inspire our meditation practice.
Horizontal elements
Sharing circles: We will have weekly sharing circles to support the group during this intensive journey.
Buddy system: Traveling solo? No worries. You'll have a built in friend for support and sharing.
Mentoring system: Each participant will be assigned a teacher they can go to with questions. Your assigned teacher/mentor will schedule a one-on-one meeting for any personal issues that you would rather address in private.
Evening activities (optional): some fun surprises to blow off some steam, sometimes literally.
We seek a balance of practice, theory and teaching formation in our program. Our Meditation & Yoga Teacher Training Course aims to help you build a solid self-practice, give you a strong understanding of the metaphysics of yoga/meditation and provide you with the skills to deliver these teachings.
Practice Components
Initiation to the following meditation techniques
Concentration techniques
Mindfulness meditation
Walking meditation
Music meditation
Spiritual heart (Hridaya) meditation
Classical Tantra: practice with mantra (sacred sound)
Techniques from Kashmiri Shaivism
Daily yoga and meditation practice
Pranayama, mudra and bandha practices
Practical application of purification techniques
Theory Components
Philosophical basis of yoga: core scriptures such as the bhagavad gita and the yoga sutras of Patanjali; paths of yoga
Meditation: form, practice and effects of meditation, functioning of the mind from a yogic standpoint
Tantra: subtle energy structure of our body; pancha maya kosha, chakra system, principles of macrocosm and microcosm; energy and consciousness
Anatomy, physiology and ayurveda
Teaching formation component consists of:

Adjustments/corrections and adaptations as a yoga teacher
Soft skills: presentation skills, holding space, teaching ethics
Practical experience: practicum experiences with structured teacher/peer feedback
Professional development: set-up and marketing of a yoga business
Weekly Flows
The Samyama 300hr Meditation & Yoga Teacher Training Course will run over a 5-week period with one day off per week.
Week I: Earth & Water
Exploration of the elements of earth & water and corresponding chakras
Concentration techniques and mindfulness meditation
The philosophical basis of yoga & review of 200-hour themes
Purification techniques
Ayurveda – kapha
Teaching methodology
Week II: Fire & Air
Going deeper into new yoga techniques and pranayama
Exploration of the elements of fire & air and corresponding chakras
Bhavana: creative contemplation
Movement and music meditation initiations
Experiential teaching formation through practicums
Ayurveda – pitta
Week III: Spiritual Heart Silent Meditation Retreat
Initiation to spiritual heart meditation
6-day silent meditation and yoga immersion
The fundamental attitudes of meditation
Self-inquiry & the teaching of Ramana Maharshi
Contemplation on love and compassion
A spiritual understanding of death
Week IV: The Element of Ether
Advanced techniques
Yogic entrepreneurship
Experiential teaching formation through practicums
Ayurveda wrap-up: Vata
Anatomy / physiology labs
Teaching methodology wrap-up
Week V: Kundalini Retreat
Classical tantra initiation
Yantra & yagna
Further techniques from Kashmiri Shaivism
Advanced pranayama practice
Personal mantra sadhana
Yoga Nidra
Daily schedule
Please note that this is a preliminary schedule and is subject to change.
07:30-09:00 Asana, prayanama, meditation practice.
09:00-10:00 Breakfast break
10:00-11:30 Theory
11:30-12:30 Meditation initiation
12:30-2:00 Lunch break
2:00 – 4:00 Theory
4:00-4:30 Break
4:30-6:30 Asana (intro to a new technique and practice)
6:30 Dinner followed by free time/optional evening activities
Occasional evening activities (optional)
Ice bath and steam sessions
Bhajan (Devotional Singing)
Women's Circles / Men's Circles