Host your event with us
Samyama offers a perfectly complete rental experience for your retreat, teacher training or event.
Born out of a desire for
authenticity
and a love of
non-dual teachings
, Samyama was created with meditation and inner work as the inspiration. Our facilities are
purposefully designed
to support authentic lineages,
transformative experiences
and integration.
In this spiritual hub that we are building, we welcome people of all backgrounds to learn about and embody diverse practices in a peaceful and supportive environment.
Contact us at [email protected] for prices and availability.
Samyama offers a range of accommodations making it accessible for all budgets. We have 11 beds and can house 11-17 people depending on whether or not they are couples, or open to sharing beds.
For a larger group, we have friendly agreements with our neighbors and can help you to book neighboring cottages, guesthouses or hotels. Please follow the link below to find photos and details about the different rooms.
Size:
85 square meters
of hardwood floor
Capacity: 35 yoga mats. Twice as many people when seated
With Tara, the goddess of compassion watching over the sacred space, this hall has hosted many transformative experiences.
Ideal for meditation, yoga asana, dance, live music, lectures and more. Dhyana has an additional balcony space where students can take a break, socialize and enjoy the views of rice fields and the jungle.
Dhyana hall is available for rent on an hourly, daily, weekly or monthly basis for events and retreats. We also host our own in-house programming.
Included in the rental:
Yoga mats, cushions, bolsters, blocks, straps, chairs
Teaching bench with storage
Sound system, microphones
Candleholders, altarpieces, singing bowl/bell, fabrics
White Board
Mounted wall fans
Two separate entrances
Musical instruments
Spacious balcony
Size:
45 square meters.
Capacity: 10 yoga mats plus room for a facilitator
Our second workshop space is private and sound-protected. It is ideal for private sessions, intimate ceremonies, small group work, emotional release or loud dynamic meditations.
The hand-painted torus mandala offers a mind-expanding entry point into open-eye meditation.
Akasha hall is available for rent on an hourly, daily, weekly or monthly basis for events and retreats. We also host our own in-house programming.
Included in the rental:
Air Conditioning

Yoga mats, cushions, bolsters, blocks, straps

Sound protection

Floor fans

Video projector

Altar space with candles, incense, meditation bell

Speakers
Dhyana Hall (30 yoga mat capacity)
| | |
| --- | --- |
| Daily (8 hrs) | US$150 |
| Half day (4 hrs) | US$80 |
Akasha Hall (10 yoga mat capacity)
| | |
| --- | --- |
| Daily (8 hrs) | US$80 |
| Half day (4 hrs) | US$50 |
Accomodation, meals & transport
Villa Samyama daily rental


(Max 8 capacity, total of 4 beds; 2 master rooms with king-size bed each + 2 queen beds at mezzanine level)

US$205
Mindfulness rooms daily rental


(Max 9 capacity, total of 7 beds; 1 single twin bed + 2 rooms with queen bed each + one dorm room with 2 bunk beds)

US$120
Cottages daily rental


(5 cottages, each have 1 queen bed, max capacity 2 for a total of 10 max capacity when renting all 5 cottages)

US$150
Meal plan


(3 home-cooked plant-based meals a day and drinking water)

US$25 per person
Single meal
US$9 per person
Airport transfer one way
US$25 per trip
Want to reserve your dates & booking?
25% of total to be paid as non-refundable deposit for confirmation
50% of total to be paid 1-month prior to the start date
25% of total to be paid by/on arrival
Samyama Eatery,
our onsite
plant-based
restaurant will take care of all of your culinary needs.
We are all about wholesome, fresh, colorful, plant-based food made from scratch right here in our compassionate kitchen.
We are flexible and offer a choice of buffet meals, a-la-carte, and even takeaway snacks for your excursions. We will adjust for any dietary restrictions in your group.
We offer predominantly organic, locally sourced food and care deeply about the planet and all life forms on it.
Ubud, Bali
has become one of the top destinations for yoga and spirituality. The local
Balinese Hindu's
live their practice through a strong belief in karma and acts of devotion – offering to the gods on a daily basis.
Ubud translates into 'medicine' and has always been a holy center for healing and purifying. It is hard not to feel the strong, yet nourishing energy – like a warm embrace – from mama Bali.
Samyama is located south of central Ubud, in the Banjar (community) of Kumbuh, Mas. We are off of a quiet road, about a 5 – 10 minute drive to the center of town (depending on traffic). Nestled between wild jungle and rice fields, our guests tell us that they love the convenience of being close to town, yet tucked away enough to feel far from the hustle and bustle.
Our neighbors include local "warungs," (eateries), other resorts and villas, a fabulous health club, one of the best restaurants in Ubud and more all within walking distance.
We are approximately a 1.5 hour drive from Denpasar International airport depending on traffic conditions.
Facilities
Our Samyama Home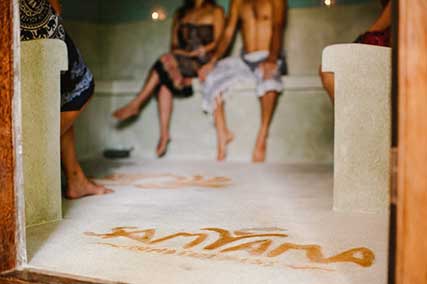 Steam heat is not only relaxing, but full of health benefits. Some of these include:
Relaxing muscles and joints
Soothing the nerves
Prompting the body to release endorphins and other "feel good" chemicals.
Our steam room is one of the most spacious in Ubud. We can fit approximately 12-15 people comfortably.
During the pandemic, we are opening our steam room and ice bath to small groups as per the guidelines of our Banjar.
Contact us if you would like to be invited, or if you want to book a private or small group session.
Cold therapy is a healing modality in itself. Benefits include:
Strengthening immunity
Improving sleep and focus
Reducing inflammation
Burning fat.
That is why the "iceman" Wim Hof, arguably the most famous proponent of cold therapy, uses it as a pillar of his Wim Hof method.
Our large ice baths can fit 6-8 people.
Check our Facebook page for our "Let's Get Steamy" events. These include Wim Hof style breathwork to prepare the body and mind for the cold.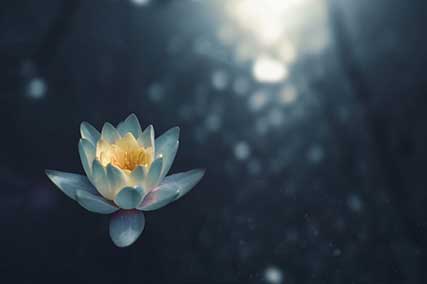 For those looking for a deeply restorative and transformational experience, we have a dark room on site. Kaya Kalpa is a technique that was used in Ayurveda for thousands of years to heal and rejuvenate the body.
It employs total darkness to send the body into deep rest and relaxation mode. The temporary loss of sight triggers various chemical reactions in the brain that may result in access to deeper states of consciousness. A minimum of 2 days is recommended and can be done for up to 40 days for advanced practitioners.
If you are curious or want to book a dark retreat, find more information here.
Frequently asked questions
For your Retreat and TTC participants
Where is Samyama located?
Samyama is located south of central Ubud, in the Banjar of Kumbuh, MAS. We are about a 5-10 minute drive to the center of town and a 20 minute walk. Our neighbors include local "warungs," or cafe's, other resorts and villas, a fabulous health club, one of the best restaurants in Ubud and more. In walking distance you will find an ATM and small shops with basic necessities. We are a 1 hour drive from Denpasar International airport (may vary with traffic conditions).
What's the weather like?
Bali's climate varies from the coast to the mountains. Ubud is 600 meters above sea level and enjoys lower temperatures than the coast. January is the hottest month with an average temperature of 29 degrees celsius, 84 degrees fahrenheit. July is the coolest month with an average of 26 degrees celsius, 80 degrees fahrenheit. You will experience lovely "summer temperatures" here year round. From October to March, you might find yourself in a refreshing tropical shower but it will pass. The humidity is higher during those months so plan accordingly. During the dry season between April and September, it is cooler but the sun is strong so don't forget your sunscreen.
Do I need to bring a yoga mat and towel?
Yoga mats and other supplies are available at our center, though feel free to bring your own. Fresh towels are also provided both in your rooms and in the healing center.
Do I need to bring money?
Local currency in Bali is the Indonesian Rupiah. Unless you want to avoid international ATM fees, you don't need to bring a lot of cash with you. Banking infrastructure is well developed in Bali. There are safe and reliable ATMs nearby that accept all types of cards, VISA and Mastercard preferred. You can also exchange your home currency at the airport or at any bank easily. Most businesses and restaurants accept credit/debit cards with a minor surcharge, including Samyama.
Can I buy everything in Ubud?
Prices on your typical groceries including tropical fruits are most likely to be cheaper than back home. There are Circle K's, Indomarts and Delta Dewata markets that are open 24 hours. For early risers, there are local open-air markets with local prices. The closest supermarket, Coco's, is less than a 5 minute drive, or a 20 minute walk. They cater more to tourists so the prices are higher but the have everything from groceries to clothing to electronics in case you forgot your phone charger.
Is it safe?
Absolutely. Bali is a safe place in general, and Ubud in particular. This is a very popular tourist destination, and also an island, so you do not need to worry about safety away from home. Samyama will begin to feel like home. The staff are very helpful and warm, and the students and teachers become like a family.
How about internet and local mobile?
You can easily acquire a prepaid local SIM card at the airport or in town. All SIM cards are 4G ready allowing you to browse Internet at very reasonable speed and rates. There's also free WiFi throughout our center.
What do I need to bring with me?
Let's start with what you don't need to bring first. There will be towels available in each room. We also provide soap that is refilled regularly. Please bring your required set of personal hygiene items but don't worry in case you forget something. There are plenty of shops and you can buy practically anything in Ubud. Some things are more expensive here, such as feminine hygiene products and sunscreen. It is not hard to find organic products but they are also slightly more expensive. Please note that only the villa rooms provide hairdryers so please bring one if necessary. Comfortable and light clothes that are easy to wash and dry will come in handy for your daily practice. Otherwise you won't need a lot of garments other than t-shirts and shorts, light dresses and skirts, and of course flip flops. It can get cool in the evening, especially on the back of a motorbike so bring a light sweater or long sleeved shirt. Bring sneakers if you want to enjoy the mountain trekking the island has to offer, and don't forget your bathing suit!
Are there mosquitoes?
Perhaps because of our location, or because of the bats that eat them, mosquitos are not a big problem here. They only come out for about an hour around sunset. We have extra natural mosquito repellant onsite for evening practice and it can be purchased in any pharmacy or market nearby.
Do i need to get a visa to come to Bali?
Please contact a visa agency in Bali for the latest visa information.
What about laundry?
Laundry service is not included in the price of the retreat. Samyama staff can arrange for an outside laundry service to pick-up and drop-off. There is also a reliable laundromat a few steps down the road from Samyama where you can drop off and pick up the next day. Rates for doing laundry are quite cheap, however when using outside service providers, it's best to avoid bringing expensive clothes just to be on the safe side. If you prefer to hand wash your garments, there is a drying rack in the villa and in the garden of the main center.
Are airport transfers provided?
Airport transfer is not included in the price of the room and should be arranged with the group prior to arrival. Please send full guest name, arrival date, time, and flight number at least 24 hours prior to arrival. Transfers are provided only to and from Denpasar airport.
How do I get to Denpasar international airport?
From Europe, the most popular connecting flights go through Singapore, Bangkok, and Kuala Lumpur. There are non-stop flights to most cities in Australia. From the America's, flights connect through east Asia – China, Taiwan or Japan.