200-Hour 25 Day (2024)
MEDITATION & YOGA TEACHER TRAINING COURSE IN BALI
Voted #1 Best Yoga Teacher Training in Ubud, by All Yoga Training.
Full Accreditation and Certification by the internationally recognized Yoga Alliance

Upcoming Dates  

January 7 – January 31 2024
February 11 – March 6, 2024
May 19 – June 12, 2024
June 30 – July 24, 2024
August 4 – August 28, 2024
September 15 – October 9, 2024
November 17 – December 11, 2024
Package Pricing
Non-residential:
Course fee and 3 meals per day.
US$2500 Early Bird price – valid 6 months or more before the course begins.
US$2700 6 months or less before the course begins
Click here for photos of onsite accommodation.
Budget shared package: 
Single bed in a shared dorm for four, with a shared bath..
US$2750 Early Bird
US$3000 Normal Price
Budget Private package: Single/queen bed in a private room with shared bathroom facilities.
US$3050 Early Bird
US$3300 Normal Price
Standard package: Accommodation onsite in either our semi-shared Villa Mezzanine or a private cottage with bathroom and kitchenette. Offsite neighbouring accommodation in private room with private bathroom.
US$3200 Early Bird
US$3500 Normal Price
Comfort package: Accommodation in a private master room in our villa with en-suite bathroom, full kitchen, living room and pool. Option for offsite accommodation in neighbouring hotel room with airconditioning and separate bathroom.
US$3700 Early Bird
US$4100 Normal Price
Click here for photos of onsite accommodation.
A US$575 USD deposit is required to reserve the room of your choice.
Access to the online course platform will become available on the start date of the course and once you have paid in full. If you want early access, please inform us via [email protected].
Special Discounts
Friends & Family
: Sign up as a pair sharing a room/bed and both of you will get 15% off the full course price. Not applicable on early bird price.
Early Bird: Find Early Bird prices above. This discount is valid up to 6 months before the course starts.
Referrals: Refer someone who signs up for our TTC and receive 10% off of an online course and 5% off of an in-person course in Bali. Be sure to tell your friends to mention you when they contact us.
I've learned more about yoga on the first day of this course than I have in all of the classes I've attended! This is exactly what I was looking for. Thanks!
Our Samyama 200hr Meditation and Yoga Teacher Training Course offers an opportunity for self-growth, personal development, and transformation. This experience will provide you with the tools necessary to develop your own personal practice or to step into your calling as a teacher and guide.
In addition to your in-person experience, you will have access to our rich online teaching platform for 12 months. This will allow you to have ample time to practice and digest the teachings at your own pace.
The gift of yoga and meditation is so profound that this intensive teacher training course may help you to:
Become an excellent yoga and meditation teacher
Feel healthier in your body and mind
Introduce amazing changes into your life that you didn't dare to before
Forget about the world for a while and just listen to your Self
Discover your purpose in life
And more…One thing we know from experience; things will never be the same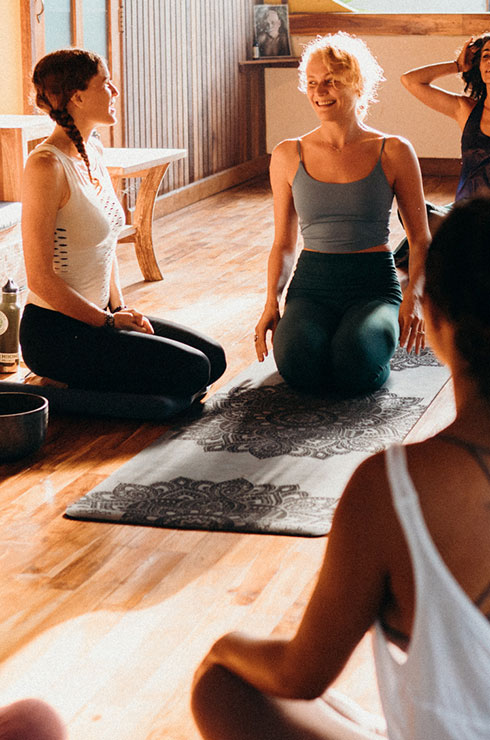 Please contact us if you'd like to find out about the teachers of this course/retreat, their certifications and experiences.
1 airport transfer one way
1 steam sauna/cold plunge session
1 deep tissue massage with our Balinese massage healer
Yoga Alliance accredited certificate
Access to our online platform for 12 months
Buddy system for extra support and practicum assignments
Payment policy
Fees for Teacher Training Courses must be paid in full at least 14 days before the start of the course. If the balance remains unpaid and there is no response from the student before the start of the course, the student's spot may be offered to another student on the waiting list. 
Cancellation policy
There will be no refund of deposits or course fees paid for cancellations made less than 14 days before the start of the course. 

There will be no refund of deposits or course fees paid for no-shows, unless major incidents such as death or natural disaster. Force majeure incidents are at the discretion of Samyama management. 

If a student must cancel after paying in full, the student may use that balance to book another course at a later date that starts within 24 months, minus the deposit amount. This means, the student will need to pay another deposit to compensate for the last minute cancellation.
Deposit policy
A participant is eligible for 100% refund of a deposit if Samyama is notified at least 120 days prior to the event start date.

A participant will be eligible for 50% refund of a deposit if Samyama is notified at least 90 days prior to the start date.
In all circumstances, when a refund is made, transfer charges will be covered by the participant, not Samyama. This means Samyama will deduct the transfer charge from the total refund sent.
Date change without loss of deposit is possible if Samyama is notified at least 60 days before the event starting date. We allow one date change to save your deposit. Deposit must be used for a course or service offered within 24 months.
Other policies
No special discounts are applied on early bird or flash sale prices.

Please note that we have limited residential spots and usually no residential spots are left for last minute bookings.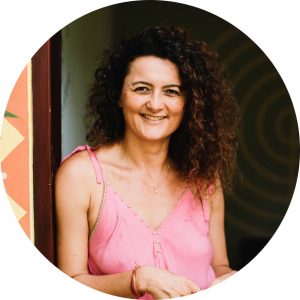 Dijan
Dijan is a practitioner of yoga and meditation with many years of experience. Her work is a synthesis of yoga therapy, esoteric tantra knowledge/practices, and meditation. She has studied with several teachers and has been fully immersed in a yogic way of life for many years working as a full-time yoga teacher and therapist. Her teachings aim to provide ways to open up to life inside and out, in order to serve oneself and others.
Dijan is trained in the following areas:
Yoga therapy: After completing an 800h yoga therapist program, she offers private consultations and retreats on an international level relying on yogic techniques, ayurvedic knowledge, and different dietary disciplines.
Meditation: She is initiated in many profound forms of meditation such as mantra, yantra, laya, uccara, vipassana, hridaya, and mindfulness. Meditation is the core of her personal practice and her teaching.
Femininity: She created her holistic and mature synthesis of teachings and techniques from Tantra, Ayurveda, anthropology, and philosophy serving to understand, express, and balance the feminine nature. She is also adding her dance background into this profound work manifesting as the retreat series 'The Feminine Way.'
Devlin
Devlin is a musician, a practitioner, and a teacher. She was first introduced to a simple Thich Nhat Hanh meditation at the age of 12 and has been on a long and winding road to the Self ever since. Devlin is passionate about the link between art and heart and worked for many years bringing performing arts and mindfulness education to under-served communities in New York City. She is a strong believer in the power of meditation for liberating ourselves from unconscious conditioned patterns. Once these no longer hold us back, we can realize the true nature of our hearts and act with kindness, compassion, and ease for the good of all beings and the planet.
Devlin has been teaching since 2006 and contributes her background in pedagogy and her experience with children, special needs, and at-risk populations. After spending two years apprenticing with a reiki master, tantrika, and energy healer, she decided to dive fully into spiritual teachings. In 2016 she began focusing exclusively on teaching hatha yoga, meditation, and sacred feminine arts internationally. She is a co-owner of Samyama, currently based in Bali, and thrilled to be continuing to share the gift of meditation through this Meditation & Yoga Teacher Training Course all across the world.
Andrea
Andrea has lived on earth for some time and traveled and lived in many countries. He has navigated through business and spiritual communities, experienced bliss and depression, checked out Tantra and Advaita. Andrea believes the genuine play of life sits in living fully all of our sides while watching from the middle. He has been a student and a teacher, a clerk and a manager, and loves life for all its facets of existence. He is fascinated by people and their authentic expression of inner gifts.
Andrea is the founder of Samyama and a Hridaya Meditation teacher. His intention in building Samyama was to create a home for silence and stillness amidst the movement of Ubud.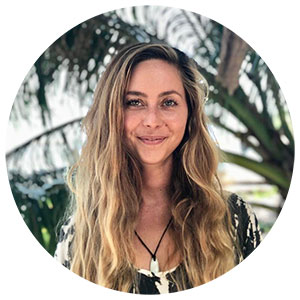 Kat
As a 500 hr certified yoga instructor, eternal student of life, digital nomad, adventure-loving soul, and mother, Katrin is forever exploring new ways of connecting to our true self and the magic of everyday life. She passes forward the lineage of Krishnamacharya that comes with a strong focus on breath, felt sense awareness, and safe structural alignment in her Hatha, Yin and Vinyasa infused yoga practices. Influenced by her own health, healing and motherhood journey, she brings a unique sense of empowerment to her teachings.
What makes this TTC special?
Outstanding teachers
Our teachers are dedicated and accomplished yogis/yoginis. They all have a solid background in yoga and meditation, and a regular personal practice. They will share their diverse gifts and skills with you from an authentic and heart-centered place of service.
A venue created by practitioners for practitioners
Our beautiful venue, Samyama Mindfulness Meditation Center, was born out of a desire for authenticity and a love of non-dual teachings. Meditation and inner work were the seeds. Love and a dedication to service helped to water this dream. Our facilities have been purposefully designed to support deep transformation, healing and integration.
Our unique location is tucked away in a quiet neighborhood surrounded by jungle and rice fields in tropical paradise. We are only a 5 minute drive to town but you will feel far away from the hustle and bustle.
Amazing healthy meals
Samyama Eatery is all about wholesome, fresh, colorful, plant-based food made from scratch right here in our compassionate kitchen. It is also delicious! We offer predominantly organic, locally sourced food. We strive to create a kitchen with zero food waste. We care deeply about the planet and all life forms on it, including you!
Carefree, all inclusive packages
From the moment you step off the plane in Bali, our friendly and trustworthy drivers will be there to greet you and transport you to Samyama.
You will feel supported with a plant-based diet, designed especially for this journey.
Samyama's massage therapist, steam sauna, ice bath and other Healing Center perks are available when you need some extra care.
The staff and teachers take pride in the warm family vibe we create, where everyone feels well taken care of.
The Yoga capital of the world
Ubud, Bali has become one of the top destinations for yoga and spirituality. The local Balinese Hindu's live their practice through a strong belief in karma and acts of devotion – offering to the gods on a daily basis. Ubud translates into 'medicine' and has always been a holy center for healing and purifying. It is hard not to feel the strong, yet nourishing energy – like a warm embrace – from mama Bali.
One-on-one attention
Everyone has their own unique journey with yoga and meditation. It's not a one-size-fits-all kind of practice. We value the importance of one-on-one attention by keeping our group small, offering each student a teacher/mentor they can go to with questions, and creating a buddy system.
Our curriculum is designed in accordance with Yoga Alliance standards. Upon completion of the course, you will receive accreditation as an RYS 200 hour teacher.
Meditation initiations
Each week you will be guided into the depths of a different approach to meditation. You will be initiated into specific techniques by our empowered teachers. Daily practice of each new technique will help you discover which form of meditation works best for you, and give you the ability to guide your future students. Perhaps the most meaningful of these initiations is a 3-day silent meditation retreat based in non-dual practices and the revelation of the spiritual heart.
Styles of yoga
You will be trained in major, classical poses of hatha yoga obtaining a thorough understanding of their physical, energetic, emotional, mental and spiritual effects.
Samyama MYTTC focuses primarily on tantric Hatha yoga addressing the subtle energetic and spiritual effects of our practice.
In addition, we offer an introduction to vinyasa, restorative, and yin practices to round out your experience.
Please note that we place more significance on the union of mind-body-spirit than we do on physical strength, and flexibility. If you are looking for a strict alignment-based approach, we may not be the right school for you.
Anatomy and physiology
We want you to have a good understanding of the anatomy and physiology of our bodies without getting overwhelmed by medical words alone. Our expert teachers will create immersions into anatomy, physiology and Ayurveda – the sister science of yoga – for you to explore yoga`s effects and functioning in our being from a scientific perspective.
Kriya techniques
We will teach and practice together selected techniques from the shat karma kriya system. This will assist our bodies in the purification processes that occur during intensive yoga and meditation practice. These techniques are gems that you will want to share with your students.
Teaching and professional skills
We love sharing our passion for this path. We want you to develop all of the required teaching skills; from making adjustments/corrections, to giving effective discourses to tuning into the needs of the individual and the group. We would also like to broaden your vision on how to make teaching yoga and meditation your profession.
Philosophy and history
Besides the core texts of yoga philosophy such as the Yoga Sutras of Patanjali and the Bhagavad Gita, we will introduce tantric texts such as the Vijnana Bhairava Tantra, teachings from Advaita Vedanta and more. There are so many beautiful and accessible texts that inform and inspire our meditation practice.
Horizontal elements
Sharing circles: We will have weekly sharing circles to support the group during this intensive journey.
Buddy system: Traveling solo? No worries. You'll have a built in friend for support and sharing.
Mentoring system: Each participant will be assigned a teacher they can go to with questions. Your assigned teacher/mentor will schedule a one-on-one meeting for any personal issues that you would rather address in private.
Evening activities (optional): some fun surprises to blow off some steam, sometimes literally.
We seek a balance of practice, theory and teaching formation in our program. Our Meditation & Yoga Teacher Training Course aims to help you build a solid self-practice, give you a strong understanding of the metaphysics of yoga/meditation and provide you with the skills to deliver these teachings.
Practice Components
Initiation to the following meditation techniques
Concentration techniques
Mindfulness meditation
Walking meditation
Music meditation
Spiritual heart (Hridaya) meditation
Classical Tantra: practice with mantra (sacred sound)
Techniques from Kashmiri Shaivism
Daily yoga and meditation practice
Pranayama, mudra and bandha practices
Practical application of purification techniques
Theory Components
Philosophical basis of yoga: core scriptures such as the bhagavad gita and the yoga sutras of Patanjali; paths of yoga
Meditation: form, practice and effects of meditation, functioning of the mind from a yogic standpoint
Tantra: subtle energy structure of our body; pancha maya kosha, chakra system, principles of macrocosm and microcosm; energy and consciousness
Anatomy, physiology and ayurveda
Teaching formation component consists of:

Adjustments/corrections and adaptations as a yoga teacher

Soft skills: presentation skills, holding space, teaching ethics

Practical experience: practicum experiences with structured teacher/peer feedback

Professional development: set-up and marketing of a yoga business
Weekly Flows
The Samyama Meditation & Yoga 200hr Yoga Teacher Training is a 25-day journey divided into 3 cycles of 6 days, plus one cycle of 3 days with a day off in between each cycle.
Week I
Introductory yoga techniques
Concentration basics and mindfulness meditation
Philosophical basis
Purification techniques
Subtle energy system in yoga and tantra
Immersion into anatomy and physiology
Week II
Going deeper into yoga techniques and pranayama
Creative contemplation
Movement and music meditation initiations
Initiation to spiritual heart meditation
3-day silent meditation and yoga immersion
Immersion into Ayurveda
Week III
Teaching formation and professional skills
Integration of all the immersions
Advanced techniques
Classical tantra initiation
Further techniques from Kashmiri
Shaivism
Group study and practice sessions
Daily schedule
Please note that this is a preliminary schedule and is subject to change.
| | |
| --- | --- |
| 7:30am – 9am | Yoga practice |
| 9am – 10am | Breakfast |
| 10am – 12pm | Theory |
| 12pm – 12:15pm | Break |
| 12:15pm – 12:45pm | Mini Practice |
| 12:45pm – 2pm | Lunch |
| 2pm – 3:30pm | Theory |
| 3:30pm – 3:45pm | Break |
| 3:45pm – 5:45pm | Yoga Practice |
| 6pm | Dinner |
Occasional evening activities (optional)
Ice bath and steam room sessions
Bhajan (Devotional Singing)
Women's Circles / Men's Circles
Frequently asked questions
For retreat guests and TTC participants
Where is Samyama located and what's the neighborhood like?
Samyama is located south of central Ubud, in the Banjar (community) of Kumbuh, Mas. We are off of a quiet road, about a 5-10 minute drive to the center of town (depending on traffic). Our neighbors include local "warungs," or cafe's, other resorts and villas, a fabulous health club, one of the best restaurants in Ubud and more all within walking distance. We are approximately a 1.5 hour drive from Denpasar International airport.
Do I need a visa for Bali? If so, what is the procedure?
As of February 2023, visitors from 140 countries in the world can come to Bali for 30 days for free. A Visa on Arrival costs around 500 IDR (approximately $35 USD) and is valid for 60 days. It must be extended after 30 days, which you can do yourself or hire an agent. Samyama's manager offers VISA extension services also, so you can organize with him upon arrival. If you do it yourself, you must take 3 trips to the immigration office in Denpasar. If you hire an agent, it costs more but you only have to make one trip to Denpasar.
If you are joining a TTC, we can arrange for a car to take you and other participants together, usually early in the morning so you can be back at Samyama by late morning.
Please consult an Indonesian embassy representative in your home country just to double-check. You can also contact a visa agency in Bali to check on the latest policies.
For those who want to stay longer, there are special e-visa procedures operating until further notice from the Indonesian Government. Contact an agency in Bali for more information about the B2-11 visa.

What kind of shots/immunizations should I get?
No shots or immunizations are needed for coming to Bali. Ubud is quite cosmopolitan and doesn't have the tropical diseases that are often found in other parts of SE Asia. There are a handful of reported cases of Dengue fever each year, usually during the rainy season but it is uncommon.
How do I get to Denpasar international airport?
From Europe, the most popular connecting flights go through Doha, Dubai, Singapore, Bangkok, and Kuala Lumpur. There are non-stop flights from most cities in Australia. From the America's, flights connect through east Asia - China, Taiwan, Japan, Korea. (Due to Coronavirus double check with your airline carrier if you have a flight that goes through China) You may find more flight paths through Jakarta, and then connect to a domestic flight. There are domestic flights between Jakarta and Denpasar almost hourly.
How do I get to Samyama? Can you arrange an airport pickup for me?
Most of our retreats and course packages include a pick-up from Denpasar airport. Make sure that you provide us with the flight information (flight number, company, expected arrival time) in detail at least one week before the retreat starts.
If you are coming from elsewhere in Bali, we will also provide a one-way transfer. As above, share details about where you need to be picked up from and when.
If you prefer to use your transfer to take you back to the airport at the end of your stay that is also possible.
What's the weather like?
Bali's climate varies from the coast to the mountains. Ubud is 600 meters above sea level and enjoys lower temperatures than the coast. January is often the hottest month with an average temperature of 29 degrees celsius, 84 degrees fahrenheit. July is often the coolest month with an average of 26 degrees celsius, 80 degrees fahrenheit. You will experience lovely "summer temperatures" here year round. Some of our rooms have AC, but generally a fan is enough. In the evenings you may want a light sweater or jacket. From October to March, you might find yourself in a refreshing tropical shower but it will pass. The humidity is higher during those months, however, so plan accordingly. During the dry season between April and September, it is cooler but the sun is strong so don't forget your sunscreen.
What do I need to bring with me?
There will be towels available in each room if you are staying onsite. We also provide soap that is refilled regularly. Please bring your required set of personal hygiene items but don't worry in case you forget something. There are plenty of shops and you can buy almost everything in Ubud, including in our very own onsite Samyama Shop which offers a humble selection of items for sale. Some things are more expensive here, such as feminine hygiene products and sunscreen. It is not hard to find organic products but they are also slightly more expensive. Comfortable and light clothes that are easy to wash and dry will come in handy for your daily practice. Otherwise you won't need a lot of garments other than t-shirts and shorts, light dresses and skirts, and of course flip-flops. For MYTTC participants, it can be nice to graduate in white clothes but it's not necessary. It can get cool in the evenings and early mornings, especially on the back of a motorbike so bring a light sweater or long sleeved shirt. Bring sneakers if you want to enjoy the mountain trekking the island has to offer, and don't forget your bathing suit!
Can I buy everything in Ubud?
Yes. Prices on your typical groceries including tropical fruits are most likely to be cheaper than back home. There are many local markets as well as some international chains. Some are open 24 hours. For more information on washing your fruit and vegetables please read here. For early risers, there are local open-air markets with local prices. There is a big supermarket about an 8 minute drive, or a 20 minute walk away. It caters more to tourists so the prices are a bit higher but they have everything from groceries to clothing to electronics in case you forgot your phone charger. There are pharmacies, retail stores, organic markets and more.
How can I best respect Balinese culture?
The Balinese are generally very accepting of foreigners but there are a few important things to be mindful of when visiting Bali. 
They are very serious about their religion so it is important for men and women to wear a sarong when entering a temple. For women, an additional sash around the waste is encouraged, and please do not enter a temple if menstruating. 

Use both hands when giving and receiving, or at least use your right hand and not the left. 

Use your entire hand if you want to point at something instead of your index finger. If you need to call attention to someone, do it by extending your hand and, with palm facing down making a downward wave

Remove your shoes wherever you see a row of shoes placed outside.

Do not put your feet on the table or point your feet at another person.

Please respect the daily offerings of flowers and food that are placed on the street by not kicking or stepping on them.

In general Balinese do not outwardly express anger or frustration towards strangers. Instead you will be warmly met if you are friendly and smiling.

Don't touch people's heads. The soul is supposed to reside in one's head, making it off limits for people to touch. Even children (Balinese children that is) should not be touched on their heads.

Don't step on offerings in the street. Canang sari are offered to the Creator by locals first thing in the morning. When stepping out, you'll find these little packages of woven palm leaf, flowers and herbs everywhere, even on sidewalks and stairs. Stepping on one can be deeply offensive to any Balinese who witnesses your misstep. So watch where you go around Bali, especially in the earlier part of the day.

Don't interrupt any religious processions. Religious processions in Bali occur fairly regularly so if you're stuck behind a procession on a narrow road, do not honk your horn, or be very obtrusive.
Do I need to bring a yoga mat and towel?
Yoga mats and other supplies are available at our center, though feel free to bring your own. When using the Samyama mats, we recommend bringing a sarong to place on top of the mats for hygiene purposes. Fresh towels are also provided both in your rooms and in the healing center. If you are joining a TTC we will provide you with a sarong that you can use throughout the course and take home with you.
Are there mosquitoes?
Perhaps because of our location, mosquitos are not a big problem here, but they do live here, yes. There may be more during the rainy season, though they only come out for about an hour around sunset and sunrise. We have extra natural mosquito repellant onsite for morning and evening practice and natural and chemical repellant can be purchased in any pharmacy or market nearby.
What about internet and local mobile?
You can easily acquire a prepaid local SIM card at the airport or in town. All SIM cards are 4G ready allowing you to browse the Internet at very reasonable speed and rates. There's also free WiFi at Samyama. The country code of Indonesia is +62 (=0062) and the area code of South Bali is 036. If you call a local Bali number from a foreign phone you add '0062 36' (dropping the initial 0 of the local number). Simple mobile phones are affordable, and Bali SIM cards are cheap. You can buy prepaid top up cards for reasonably priced calls in and out of Indonesia in any phone shop or market (Indomaret, Coco Mart etc). Telkomsel and Simpati are good providers. A sim card with 5-10 GB shouldn't be more than 100k IDR.
Do you have laundry facilities?
We do not have laundry facilities on site, but there is a reliable laundromat a few steps down the road from Samyama. You can drop off and pick up the next day, or arrange for delivery with our staff onsite. Rates for doing laundry are quite cheap. When using outside service providers, it's best to avoid bringing expensive clothes just to be on a safe side. If you prefer to hand wash your garments, there are some drying racks in the villa and outside our onsite rooms. 
Is there a hospital or clinic nearby?
What is the local currency and how much money will I need?
Local currency in Bali is the Indonesian Rupiah. Unless you want to avoid international ATM fees, you don't need to bring a lot of cash with you. Banking infrastructure is well developed in Bali. Most businesses and restaurants accept credit/debit cards with a minor surcharge. Samyama accepts cash, credit/debit cards with a 3% surcharge, PayPal and TransferWise/Direct Bank Transfer. 
If you are joining our TTC, you will not need much cash as all of your basic needs will be taken care of. You will need to pay for your meals on the 4 off-days, including the evening of the opening circle.
You can choose to live very cheaply here or very lavishly if you want to. As an example, lunch at the local warung (balinese eatery) may cost you $2, while lunch at one of the organic, raw, vegan spots that Ubud is famous for can cost you $7 - $12. If you want to explore you may want to rent a motorbike. This will cost from $40 - $70 per month depending on the model you rent, though gas is quite cheap. If you want to shop, note that imported items will be more expensive than you will find in your home country. Other items made in Bali will often be much cheaper.
Where is the closest ATM?
There is an ATM at Titi Batu Health Club, just down the road from Samyama. There are many ATMs in town that accept all types of cards, VISA and Mastercard preferred. You can also easily exchange your home currency at the airport or at any bank or money exchange in Ubud.
How do I settle my remaining balance?
Our preferred method is Wise. If you are unfamiliar with Wise, it is an App accessible on your phone or web browser that simplifies international bank transfers and has some of the best currency exchange rates. Simply find your preferred currency to transfer money directly from your bank account. If you use a different currency than USD, then Wise is encouraged due to its favorable exchange rates and low fees compared to bank fees.
If needed, we accept PayPal but we charge an additional 5% to cover the high PayPal service fees. Please let us know how you would like to pay and we will send you the corresponding payment details.
All remaining balances need to be paid one week before the course start.
Will I need an electrical adapter?
In Indonesia the power plugs and sockets are of type C and F - the two pronged round ones. The standard voltage is 220/230 V and the standard frequency is 50 Hz. If you are coming from Europe, you won't need an adapter but travelers from the US will need one. Adapters may be available on request and can be purchased in town at a low cost.
What kind of insurance do I need?
We strongly recommend purchasing travel insurance before leaving your home country. If you intend to ride a motorbike, you may want to check that the insurance you choose covers motorbike accidents. In order to drive a scooter here you will need to possess an international drivers license, wear a helmet and have a copy of the bike papers on you. Otherwise, you'll find yourself paying fines when stopped by police. If you do get fined, ask for the official catalog of fines and know that there's room for negotiation. I also recommend to only have a limited amount of cash on you or to say so to the police officer. Samyama is not responsible for any loss of belongings or injuries incurred while on-site.

What does Samyama mean?
Samyama is the state of absorption into the object of meditation where the three stages of concentration, meditation and samadhi happen at once.
What food will I be eating?
Samyama Eatery will be lovingly providing your meals throughout the duration of the TTC's and retreats. They offer a range of hot and cold dishes prepared with the freshest local ingredients, using organic produce whenever possible. All meals will be 100% vegan to keep you aligned with the yogic principle of Ahimsa: Do no harm. Most meals will be served buffet style and will vary daily. Drinks will also be included. A-la-carte menus are also available. The restaurant is open from 8am - 8pm and you can order additional food, drinks and desserts anytime during open hours.
Can you accommodate special dietary requirements?
Our onsite restaurant is plant-based, almost entirely organic, and has gluten free options. We will ask for your dietary restrictions before you arrive and plan an appropriate menu with our kitchen in advance. We do accommodate some basic needs such as gluten-free food but for very specific needs you may need to come prepared bringing your special supplements or food items with you.
Is there a refrigerator I can use?
Yes. We have a small shared fridge in our lounge area. If you are staying in the Samyama villa, you will have access to the shared kitchen and fridge. Private cottages have small kitchenettes as do many of the neighboring resorts that you may choose to stay at.
What time does the TTC start on the first day? And when do I have to check-in?
The first day of our TTC is Day 0, or arrival day. This is when you check-in and meet the instructors and other participants in our Welcome Circle in the afternoon. Exact timing will be communicated in our 'students & instructors Whatsapp group' closer to time.
Check-in is from 2pm on day 0 or beforehand if arranged otherwise. Some participants prefer to come a few days earlier to rest before the course starts. That is completely up to you. Contact us if you would like to book extra nights before or after the course.
Day 1 starts early the next morning and this is when your included meals begin. On arrival day, you can order meals a-la-carte from the restaurant but there will be no buffet service.
Can I arrive early to the TTC or stay late?
It depends on the dates of the course you are attending. It is very likely that this is possible but it depends on the schedule of the center. Please contact Samyama if you would like to book extra nights at [email protected]
Will I have time during the TTC to visit Ubud? How do I get there?
Yes. In the evenings you will have free time to go into town if you'd like. You will also have a day off every week and we recommend exploring some of the beauty and culture that Ubud and Bali has to offer.
You can rent a motorbike for daily, weekly or monthly rates, or hire drivers, though if you've never driven one before, we don't recommend learning during the TTC.
We have reliable local drivers who we work with who we can recommend. You can ask our staff for assistance when booking a car or motorbike taxi, or simply walk up the street to a local taxi stand. For quick trips into town, motorbike taxis are recommended. 
Recommended Drivers
Made (pronounced Ma-Day): +62 822-3778-6930
Ketut +62 821-4457-9031
Go-Jek and Grab have drivers too and make it very easy to get around, but due to local competition, they are not welcome in every neighborhood. We prefer to support the locals first, but when needed the apps are also an option.
How can I prepare myself best for the TTC? Is there anything I have to read?
There is not a 'must-read' list but if you'd like to be inspired, here are some suggestions:
- T.K.V. Desikachar: The Heart of Yoga
- Paramahansa Yogananda: Autobiography of a Yogi
- Mark Stephens: Yoga Sequencing
- Mark Stephens: Yoga Adjustments
- Ray Long: Anatomy of the Key Poses of Hatha Yoga
- Swami Satyananada Saraswati: Hatha Yoga Pradipika
- Christopher Isherwood: The Bhagavad Gita
- Harish Johari: The Chakras
- Swami Rama: The Art of Joyful Living
- Eckart Tolle: The Power of Now
- Swami Chidananda: Path to Blessedness
What style of yoga or lineage will I be learning in the TTC?
You will be trained in major, classical poses of Hatha yoga obtaining a thorough understanding of their physical, energetic, emotional, mental and spiritual effects.
Samyama MYTTC focuses primarily on tantric hatha yoga addressing the subtle energetic and spiritual effects of our practice. In addition, we offer an introduction to vinyasa, restorative, and yin practices to round out your experience.
You will also be initiated in the following methods:
Concentration techniques

Mindfulness meditation

Walking meditation

Music meditation

Spiritual heart (Hridaya) meditation

Classical Tantra: mantra (sacred sound), yantra (sacred geometry), Kriya (purification) and yagna (Fire ceremony)

Meditation techniques from Kashmiri Shaivism

Daily yoga and meditation practice including pranayama, mudra and bandha practices

Practical application of purification techniques
How much yoga will I be doing during a TTC? What if I'm a beginner?
We have 2 yoga asana practices per day; each one will usually start with the introduction of a technique and continue with practice of the studied asana, pranayama and meditation techniques. We find it suitable for all levels of practitioners for the following reasons:
We will progress gradually in terms of physical complexity and mental concentration making it accessible to beginners of yoga

We will elaborate on esoteric effects and meaning of all techniques introduced which are very stimulating for intermediate and advanced practitioners.
Will I be prepared /qualified to teach when I finish the TTC?
Successful completion of MYTTC grants you the credentials to be a yoga teacher and start teaching immediately. You will also be able to teach most of the meditation techniques we will share with you. Some techniques require a special empowerment and they remain for you to experience only during this course.
That being said, we invite practitioners of all levels to have a humble attitude towards becoming a yoga teacher. Please remember that you are taking a good, solid step on the path but we are students forever. Especially if you don't have a personal practice established already, give yourself time after the TTC to integrate yoga into your daily life. Even if you jump into teaching immediately using this great momentum, always keep a personal practice. 
Our certification grants you eligibility to become a Registered Yoga Teacher 200h at Yoga Alliance.
Will I need to apply for Yoga Alliance separately?
Yes. Yoga Alliance requires every certified graduate from an accredited school to apply directly to them via their website. They have a clearly structured system around this. Feel free to check their website for more information. We will also provide you with the necessary links after the course.
Can I take the TTC to deepen my practice if I don't plan to teach?
Absolutely! If you are not interested in receiving a teacher certificate you can just join it as a long retreat which will definitely serve you on many levels.
How much time will I need to spend on homework?
We have reserved a total of 25h from our curriculum for self-study and some minor homework.
Do you have participants from different cultures and backgrounds?
Yes. People come to Ubud and to Samyama from all over the world. We practice inclusivity and all genders, races, ethnicities, sexual orientations and more are welcome here. 
Who are the teachers? What are their credentials and experience?
You will have a team of 4 main teachers for the TTC's, plus some supporting teachers. Lead and supporting teachers rotate depending on the level of the retreat. All lead teachers are Yoga Alliance certified and registered and have a combined teaching experience of >8000 hours. If you'd like to find out more about the teachers of the course on the dates you're interested in, contact us HERE.