Awakening kundalini shakti in a safe container
1-week Kundalini Retreat in Bali
Kundalini is an enormous energy that is waiting in you to be stirred.
The process of spiritual liberation happens as the rising of Kundalini through the spine towards the crown.
All paths ultimately lead to the same place, and that place is inside of you. It has been there all along.
All you need is the time, support, and inspiration to discover it. Once you do, you never lose that connection.
Ignite this potent energy in a safe and effective way with this 5 day/6 night Kundalini retreat. It may bring about profound insights, and at the least, shift your present experience.
The quieter you become the more you are able to hear.
-Rumi
Dates
January 9 – 13, 5 days (6 nights for residential packages. Arrival day is January 8th)
Investment
Non-residential:
1111 USD for 5 days. Includes retreat experience plus 3 plant-based meals per day.
Residential:
Starting at 1333 USD for 6 nights. Includes retreat experience, 3 plant-based meals per day, a shared or private room & airport transfer (one-way)
To book a residential retreat, please send an email to [email protected] to check room availability and complete enrollment.
About the Offering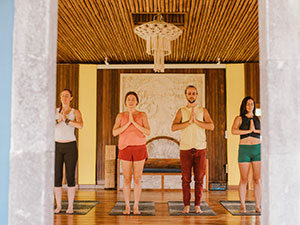 The 6-day Kundalini retreats are designed to carefully prepare your vessel for containing potent energy. Kundalini practices need to be handled with care. Without proper guidance the nervous system can be overwhelmed leading to disharmony; such as unpleasant physical symptoms, agitation and confusion.
We will rely on the time-honored methods of Hatha yoga with the special use of mudras and bandhas, purification mantra meditation from classical tantra and transcendental techniques from Kashmiri Shaivism.
The schedule of the day and the entire retreat is carefully crafted to guide you slowly into stimulation, exaltation and integration through yoga nidra. The result is not only the profound experience of a new way of being but a practical toolbox. You will learn to use these tools to tap into your potential force of nature.
Some of the techniques included:
Yoga asana, pranayama, mudra, bandha
Practices from the Vijnana Bhairava Tantra – one of the central
texts of Kashmir Shaivism
Personal mantra sadhana from classical tantra
Movement and bhakti forms of meditation
Yantra initiations
Yoga nidra
Please note that this retreat is for intermediate and advanced practitioners only!
Accommodation Packages, Meals & Prices
Accommodation will be arranged at Samyama and/or selected resorts within walking distance from the yoga hall. There are options for different budgets to make the retreat accessible and enjoyable for everyone.
All packages include 3 meals per day and a one-way airport transfer.
Comfort package: 1333 USD for 7 nights: Single occupancy in a standard room with ensuite bath, and AC.
Luxury package: 1666 USD for 7 nights: Single occupancy in a luxury room with ensuite bathroom, and AC.
See photos and read more about our accommodation options here.
Meals
All meals are provided by Samyama Eatery. Healthy vegan dishes are prepared with fresh, local ingredients and superfoods.
Our restaurant will share their love of healthy eating and living throughout the retreat, supporting your practice in a pleasant and tasty way.
During the retreat, we want you to feel good and at ease so you don't have to think about meal planning.
We offer three meals per day aligned with the retreat schedule.
Dietary suggestions
To support this deep work, we highly recommend that you avoid consuming alcohol or tobacco during these days. Fasting is not recommended unless you have one regular fasting day per week.
Email us at [email protected] to book a room or add additional meals to your package.
Schedule
This is a sample schedule and is subject to change.
Days 1 & 5 (8)
Days 2 – 4 (7)

7:30 am – 12:30 pm: Meditation followed by a short break for breakfast. After a lecture offering philosophical context for the different techniques being introduced. The lecture is followed by a Hatha yoga practice, meditation, and then lunch.
12:30pm – 3:00pm: Lunch and break. Enjoy time for rest and quiet reflection
3:00pm – 6:30pm: The afternoon will follow a similar schedule of meditation, discourse (may be pre-recorded), and movement. You will have an opportunity to ask questions through written notes.
At the end of the final day, we will break the silence with a sharing circle. Sharing is optional. Once the silence is broken the retreat is officially over.
Breakfast and lunch included for all participants.
Dinner included for residential participants immediately following the final practice of the day.