300-Hour
ONLINE MEDITATION & YOGA TEACHER
TRAINING COURSE
Full Accreditation and Certification by the internationally recognized Yoga Alliance
Time to Take the Next Step in Your Yoga and Meditation Practice
This course will build onto your 200 Hour TTC experience and help you to build a meaningful yoga business to serve your community
Deepen your personal experience with a powerful immersion
Strengthen your professional skills to become the best yoga and meditation teacher you can be
Yoga is a path of liberation. Free yourself from self-imposed limitations and grow beyond your boundaries!
Upcoming Dates

September 30 – November 11, 2021

November 25, 2021 – January 6, 2021
Special Discounts
Friends & Family: Sign up as a pair or more and all of you will get 15% off the sale price.
Early Bird: Sign up early and receive 10% off the sale price. Early Bird discount is valid up to 60 days before the course starts.
Refer someone who signs up for our TTC and receive 10% off of an online course and 5% off of an in-person course in Bali. Be sure to tell your friends to mention you when they contact us
This course has brought me back to myself, and taught me who I am and where I'm going.
We welcome you with open arms to join our virtual Samyama family. We share this space with over one hundred practitioners, teachers, and lovers of non-duality spanning more than 30 countries. Thank you for showing up for your growth. 
Samyama team has Experienced Registered Yoga Teachers and Continuing Education Providers accredited by Yoga Alliance at the highest level. Instructors include an IAYT certified yoga therapist, a classical tantra instructor with the highest level of empowerment and teachers with decades of genuine self-practice.
We care about the deep need to belong to a community where you can create authentic and lasting connections. What better way to connect than through the journey of self-discovery, supported by traditional Hatha, Tantra, Kundalini, Yin, Bhakti, Raja, and Karma Yoga.
Samyama team became a family to myself and my classmates. The information and knowledge I have received from them is a blessing I will carry for the rest of my life 🙏 10/10 experience. – Tawny, Canada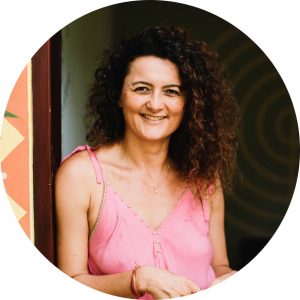 Dijan
Dijan is a practitioner of yoga and meditation with many years of experience. Her work is a synthesis of yoga therapy, esoteric tantra knowledge/practices, and meditation. She has studied with several teachers and has been fully immersed in a yogic way of life for many years working as a full-time yoga teacher and therapist. Her teachings aim to provide ways to open up to life inside and out, in order to serve oneself and others.
Dijan is trained in the following areas:
Yoga therapy: After completing an 800h yoga therapist program, she offers private consultations and retreats on an international level relying on yogic techniques, ayurvedic knowledge, and different dietary disciplines.
Meditation: She is initiated in many profound forms of meditation such as mantra, yantra, laya, uccara, vipassana, hridaya, and mindfulness. Meditation is the core of her personal practice and her teaching.
Femininity: She created her holistic and mature synthesis of teachings and techniques from Tantra, Ayurveda, anthropology, and philosophy serving to understand, express, and balance the feminine nature. She is also adding her dance background into this profound work manifesting as the retreat series 'The Feminine Way.'
Devlin
Devlin is a musician, a practitioner, and a teacher. She was first introduced to a simple Thich Nhat Hanh meditation at the age of 12 and has been on a long and winding road to the Self ever since. Devlin is passionate about the link between art and heart and worked for many years bringing performing arts and mindfulness education to under-served communities in New York City. She is a strong believer in the power of meditation for liberating ourselves from unconscious conditioned patterns. Once these no longer hold us back, we can realize the true nature of our hearts and act with kindness, compassion, and ease for the good of all beings and the planet.
Devlin has been teaching since 2006 and contributes her background in pedagogy and her experience with children, special needs, and at-risk populations. After spending two years apprenticing with a reiki master, tantrika, and energy healer, she decided to dive fully into spiritual teachings. In 2016 she began focusing exclusively on teaching hatha yoga, meditation, and sacred feminine arts internationally. She is a co-owner of Samyama, currently based in Bali, and thrilled to be continuing to share the gift of meditation through this Meditation & Yoga Teacher Training Course all across the world.
Andrea
Andrea has lived on earth for some time and traveled and lived in many countries. He has navigated through business and spiritual communities, experienced bliss and depression, checked out Tantra and Advaita. Andrea believes the genuine play of life sits in living fully all of our sides while watching from the middle. He has been a student and a teacher, a clerk and a manager, and loves life for all its facets of existence. He is fascinated by people and their authentic expression of inner gifts.
Andrea is the founder of Samyama and a Hridaya Meditation teacher. His intention in building Samyama was to create a home for silence and stillness amidst the movement of Ubud.
Our instructors live their practice; a mindful life in service to others.
We are there for you through anxiety, physical pain, or deeper spiritual dilemmas.
You will feel safe in knowledgeable and caring hands.
We cannot claim to fix it, but we can help you to accept the entirety of yourself exactly as you are right now.
Samyama team has Experienced Registered Yoga Teachers and Continuing Education Providers accredited by Yoga Alliance at the highest level, an IAYT certified yoga therapist, a classical tantra instructor with the highest level of empowerment, and teachers with decades of genuine self-practice.
Yoga Alliance accredited certificate
100+ instructional videos – lectures & practices
2-3 live meditations per week via Zoom
Weekly live Q&A and sharing circles via Zoom
One-on-one mentoring & lifetime support
6-day guided silent meditation retreat
6-day guided kundalini retreat
Detailed training manual, approximately 500 pages
Access to our private Facebook group
Buddy system for extra support and practicum assignments
The invitation to join us in Bali
* We will deduce the online course fee from the total live course amount if you would like to repeat it in Bali at our center.
After MYTTC, my yoga and meditation journey is more deeply rooted in a connection with the self. I have a new sense of purpose in my practice that I feel will stay with me as I continue learning, growing, and expanding. Thank you Samyama Team! – Katy, USA
The Samyama 300hr Online Meditation & Yoga Teacher Training Course will run over a 5-week period with an extra week for study and integration. You may choose to do the full 5-week immersion, or spread the course out over a few months. If you choose the self-paced option, you must still attend one full cycle of live sessions. This includes all meditation initiations, the silent retreat, and all live practicums.
The lecture and practice videos will be released day by day as they would've been taught in person. This way we can run this course as close to an in-person course as possible and support each other as we go through it together.
Hours of the synced live sessions will be chosen according to geographical distribution to best accommodate all participants. All live sessions will be recorded and uploaded to our course platform, Teachable.
We will be available for you throughout the week via one-on-one video calls and weekly sharing/Q&A circles for the whole group. Plus, we have a designated private WhatsApp group to answer any questions that may come up during the day and interact with other students. Each live sharing circle will be approximately 90 minutes long.
The instructor's breadth of knowledge from years of practice is apparent. They immediately made me feel like I was in good hands, and their transmission during the practices really started to inform my own self-practice. – Teresa, USA
Meditation initiations
Each week you will be taken into the depths of a different and potent meditation technique by our empowered teachers. Daily practice of each technique will help you discover which form of meditation works best for you, and give you the ability to guide your future students. You will experience two profound retreats during this course. 
A 6-day meditation retreat based on non-dual practices and the revelation of the spiritual heart, 3 days of which will be practiced in silence
A 6-day kundalini yoga and meditation retreat based on non-dual Kashmiri Shaivism and classical tantra teachings
Styles of yoga
You will be trained in major, classical poses of hatha yoga obtaining a thorough understanding of their physical, energetic, emotional, mental and spiritual effects. Additionally, MYTTC focuses on vinyasa, kundalini, and restorative practices of yoga with a great emphasis on tantra yoga addressing the subtle energetic and spiritual effects of our practice.
Anatomy and physiology
We want you to have a good understanding of the anatomy and physiology of our bodies without getting overwhelmed by medical words alone. Our expert teachers will create immersions into anatomy, physiology, and Ayurveda – the sister science of yoga – for you to explore yoga`s effects and functioning in our being from a scientific perspective.
Kriya techniques
We will teach and practice together selected techniques from the shat karma kriya system. This will assist our bodies in the purification processes that occur during intensive yoga and meditation practice. These techniques are gems that you will want to share with your students.
Teaching and professional skills
We love sharing our passion for this path. We want you to develop all of the required teaching skills; from making adjustments/corrections to giving effective discourses to tuning into the needs of the individual and the group. We would also like to broaden your vision on how to make teaching yoga and meditation your profession. We will support you in creating a yoga business bringing abundance to your life and serving your community in the best possible way.
Philosophy and history
Besides the core texts of yoga philosophy such as the Yoga Sutras of Patanjali and the Bhagavad Gita, we will introduce tantric texts such as the Vijnana Bhairava Tantra, teachings from Advaita Vedanta, Kashmiri Shaivism, Classical tantra, and more. There are so many beautiful and accessible texts that inform and inspire our meditation practice.
We seek a balance of practice, theory, and teaching formation in our program. Our Meditation & Yoga Teacher Training Course aims to help you build a solid self-practice, give you a strong understanding of the metaphysics of yoga/meditation and provide you with the skills to deliver these teachings.
Practice Components
Initiation to the following meditation techniques
Concentration techniques
Mindfulness meditation
Walking meditation
Music meditation
Spiritual heart (Hridaya) meditation
Classical Tantra: practice with mantra (sacred sound)
Techniques from Kashmiri Shaivism
Daily yoga and meditation practice including pranayama, mudra, and bandha practices
Practical application of purification techniques
Theory Components
The philosophical basis of yoga: core scriptures such as the Bhagavad Gita and the Yoga Sutras of Patanjali; paths of yoga
Meditation: form, practice, and effects of meditation, functioning of the mind from a yogic standpoint
Tantra: subtle energy structure of our body; pancha maya kosha, chakra system, principles of macrocosm and microcosm; energy and consciousness
Anatomy, physiology, and Ayurveda
The teaching formation component consists of:

Adjustments/corrections and adaptations as a yoga teacher
Soft skills: presentation skills, holding space, teaching ethics
Practical experience: practicum experiences with structured teacher/peer feedback
Professional development: set-up and marketing of a yoga business
Daily Flow
Below we offer a suggested daily flow of activities for 6 days of the week, however, you will find your own routine best suited to you. This will change depending on your time zone as you will want to adjust your schedule around the live sessions. 
Morning Meditation and Asana Practice (For those in the Americas the live sessions often occur first thing in the morning)
Lunch Break and rest or catch up on lectures/reading
Afternoon Lectures and Meditation (For those in Europe, Africa, and the Middle East the live sessions often occur in the afternoon)
Afternoon/Evening Asana Practice
Dinner Break and rest or catch up on lectures/reading. (For those in Asia/Pacific, the live sessions often occur in the evenings)
I learned the real essence of yoga. A lifetime journey started here.