Your task is not to seek for love, but merely to seek and find all the barriers within yourself that you have built against it.

Rumi
If stress is the root cause of so many ailments, then relaxation is the first step towards healing.
A relaxed body contributes to a relaxed mind. Not only does this aid our meditation journey but it helps us to carry positivity into our daily lives.
Our Healing Center facilities complement our yoga and meditation programs. Whether for relaxing the body, calming the mind or gaining a better understanding of how our mind works, the outcome is a feeling of increased intimacy with life itself.
Samyama works with a rotating staff of experienced practitioners to offer a variety of healing treatments. Currently, we are offering Yoga Therapy, Intuitive Deep Tissue Massage, Ajna Light Therapy, and Human Design consultations.
Yoga therapy consultations
We all have our individual temperament, lifestyle and health needs. A private consultation bringing together the esoteric teachings of yoga & ayurveda and the western, scientific approach of yoga therapy will provide you with a tailor-made program suitable specifically for your and your needs.
How Does It Work?
Appointment:

The appointment for the 90 minutes sessions is scheduled according to mutual availability. During this appointment, we will try to identify the current health and life challenges, and health history on many different levels respecting your personal boundaries. This usually takes 60-75 min. Following the intake, our in-house yoga therapist will present you with an individualized program for you consisting of yoga therapy techniques as well as tools from tantra teachings.
Follow-up appointments:
You may book a follow-up right away to practice your plan as a private class of 60-75 min. Otherwise, after implementing your personal program you may also book a follow-up meeting online or in person for adaptation and to go deeper into your wellness plan.
Price:
177 USD
Follow-up appointment:
122 USD
Intuitive deep-tissue massage
Our local massage healer, Ketut, offers one of the best therapeutic massages in Ubud. He works intuitively where you need it the most so you will never feel like you are getting a "routine" treatment. Many of his clients go to him for chronic pain relief. More than a relaxing treatment, he offers a true healing experience. Book your treatment here.
Duration: 1 hour.   Price: IDR 450,000
Duration: 90 minutes.  Price: IDR 600,000
Ajna light therapy
Ajna light treatments quickly transport you into a deeply relaxed and meditative state without effort. The flickering lights do the work for you, activating the pineal gland, also known as the third eye, or ajna chakra. This can induce higher states of consciousness, inner clarity and visions as well as regulating the sleep cycle. Request a session here.
Duration:  30 minutes
Price:  IDR 300,000
Human design reading
The human design reading is a very practical way to look at your decision making strategies based on the auric field given by your natal chart. It will help you to understand the dynamics of how your particular body/mind works and relates to others in terms of decision making. It helps you to find the most beneficial ways to attune to your natural predisposition.
HD does not pretend to be an esoteric approach to the self but a very practical tool to deal with life and relating by understanding our own very unique dynamics.
By following your strategy and inner/outer authority, and some tips on what you are equipped to do, you will be better able to navigate life and have more clarity about your choices.
A HD reading will also offer you the possibility to better understand your partner, friends and family, and your relating dynamics. It will help familiarize you both with your gifts as well as the areas where you can learn and gain wisdom.
Via HD you will have more clarity and access to your own potential. This will give you access to more knowledge about your personal needs and your purpose.
Note: For an accurate reading you must provide full birth details with date, place and time as well as a recent picture.
Price:
IDR 1.5 million for a one-on-one reading when available in-person, or via Zoom.
*Samyama healing treatments are not a substitute for medical or psychological treatment. Although there is evidence that these therapies are effective in treating physical, mental, and spiritual conditions, our methods are considered complementary by Western health care professionals.
Facilities
Our Samyama Home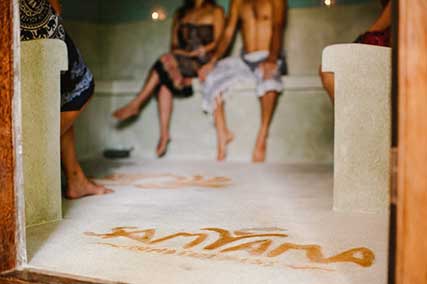 Steam heat is not only relaxing, but full of health benefits. Some of these include:
Relaxing muscles and joints
Soothing the nerves 
Prompting the body to release endorphins and other "feel good" chemicals.
Our steam room is one of the most spacious in Ubud. We can fit approximately 12-15 people comfortably.
During the pandemic, we are opening our steam room and ice bath to small groups as per the guidelines of our Banjar. 
Contact us if you would like to be invited, or if you want to book a private or small group session. 
Cold therapy is a healing modality in itself. Benefits include:
Strengthening immunity
Improving sleep and focus
Reducing inflammation
Burning fat.
That is why the "iceman" Wim Hof, arguably the most famous proponent of cold therapy, uses it as a pillar of his Wim Hof method. 
Our large ice baths can fit 6-8 people.
Check our Facebook page for our "Let's Get Steamy" events. These include Wim Hof style breathwork to prepare the body and mind for the cold.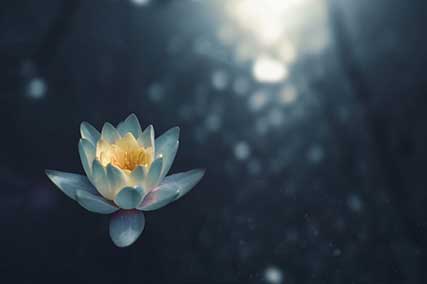 For those looking for a deeply restorative and transformational experience, we have a dark room on site. Kaya Kalpa is a technique that was used in Ayurveda for thousands of years to heal and rejuvenate the body.
It employs total darkness to send the body into deep rest and relaxation mode. The temporary loss of sight triggers various chemical reactions in the brain that may result in access to deeper states of consciousness. A minimum of 2 days is recommended and can be done for up to 40 days for advanced practitioners. 
If you are curious or want to book a dark retreat, find more information here.